PRESS RELEASE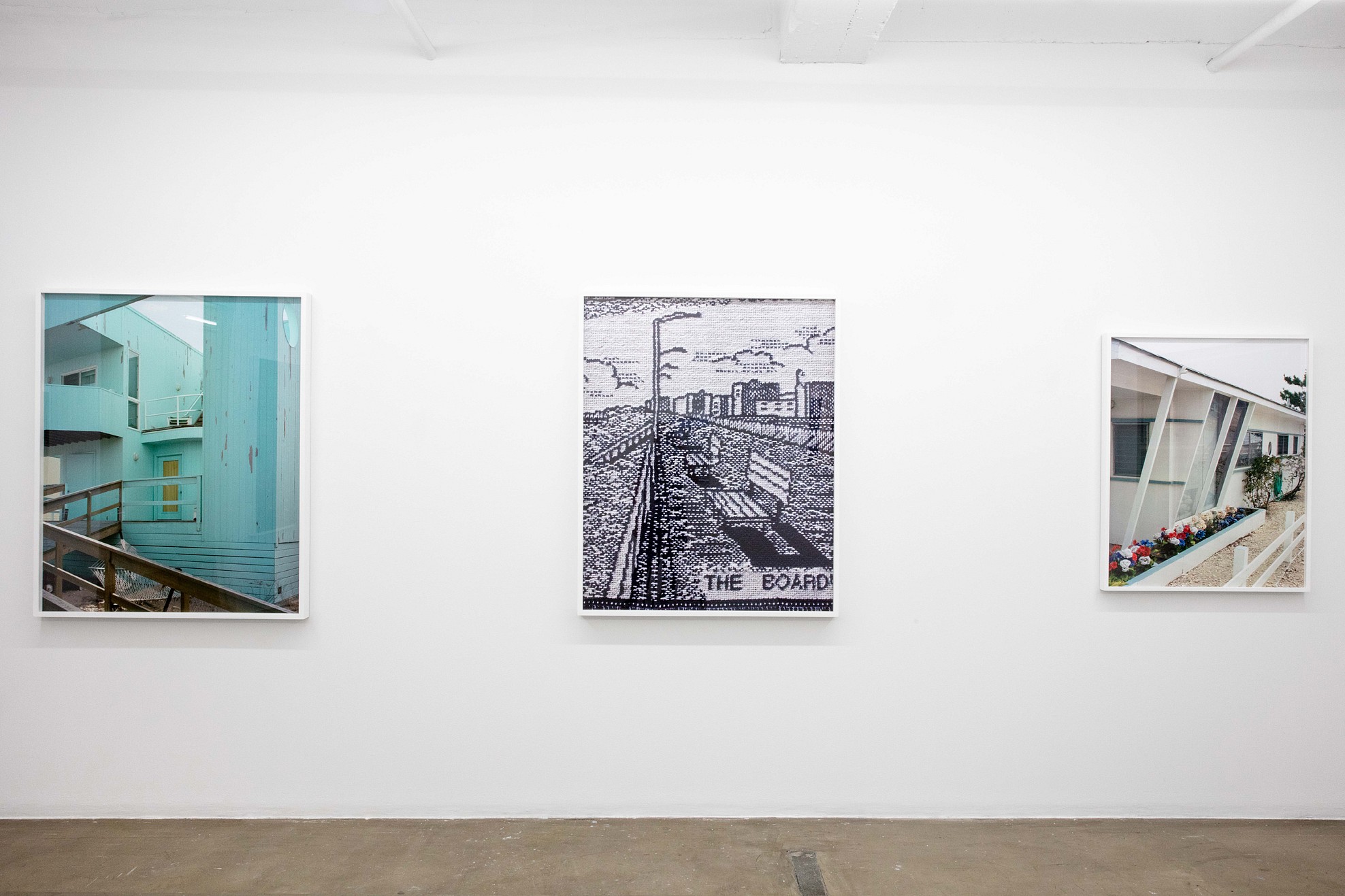 Tyler Haughey: Eastern Standard
Oct 14 – Nov 20, 2021
New York, NY — If you've spent any time near the coast of the Northeastern United States, the imagery in Tyler Haughey's pictures will feel familiar: the lobster shack, the spearmint motels, the ocean. Maybe it was a day trip. Maybe it was your friend's cousin's beach house. Maybe you didn't even go. But you know it. Not in a nostalgic sense, per se. If anything, Haughey's new show at Sears Peyton Gallery, Eastern Standard, digs through our memories and expectations for details we might ignore or forget: the warped angle, the errant hammock, the constellation of gift shop tchotchkes that form a portrait of the person who bought them. They're almost, but not quite. Or, as Haughey puts it, "You have an experience of recognition, but it's not something you'd actually see."
Haughey's approach isn't sinister or ironic, nor is he here to expose the banality of some American dream. He likes these places. He grew up in them, watching them boom and bust under the aspirations of real-estate development and endure as monuments to their own continued existence. In the past, he has focused on the built environment: resorts, motels. Here, he dilates to collect what he calls "moments and expressions and signs": not just the places where vacation happens, but the feelings and promises it conjures.
And where he used to travel with the intention of taking pictures, here he stayed closer to home. "I've always struggled to make work in that 10-15 mile radius," he says. "I felt I was overly familiar with the places I've lived."
The challenge is to discover something new in places he sees every day. But it's also an effort to make something small and personal out of imagery Haughey knows belongs to the collective imagination, and to disrupt that image with the weird, inconvenient reality that Haughey calls "the place as it is versus the place as we want it to be." That mysterious pyramid of sand just off the boardwalk for example: is this the postcard you were hoping for?
They're warm pictures, but solemn, and made strange not just by how they find intimacy in artifice, but how they play with time: being developed or falling apart, preserved or abandoned, a relic in defiance of the modern world, or a new build with a veneer of quaintness to keep the illusion? As Haughey points out, these aren't just worlds people escape to or remember but worlds where people live in the present tense. They point toward a were. And yet, here they are. - Mike Powell
Tyler Haughey: Eastern Standard is on view October 5– November 20, 2021 at Sears-Peyton Gallery's Chelsea location at 210 Eleventh Avenue. Gallery hours are Tuesday-Friday 10am-6pm and Saturdays 11am-5pm. For more information or to request further press images, please contact the gallery at info@searspeyton.com.