PRESS RELEASE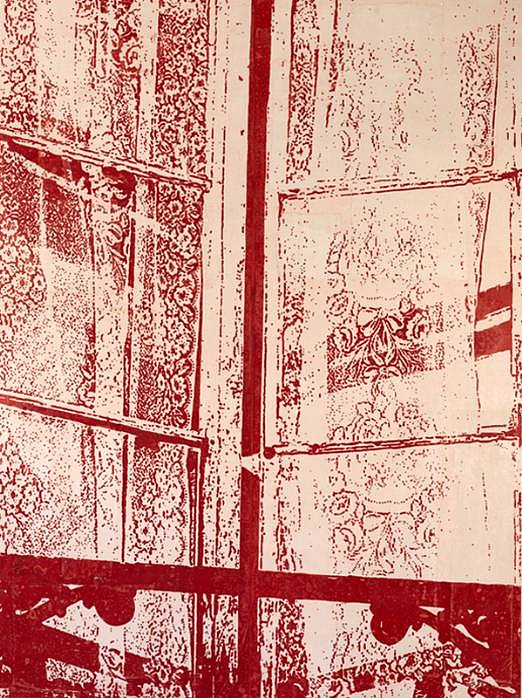 Eugene Brodsky, Silkscreen Paintings
Oct 27 – Dec 10, 2011
Eugene Brodsky, Silkscreen Paintings
October 27 – December 10, 2011
Opening Reception: Thursday, October 27th, 5-7 PM
Sears-Peyton Gallery is pleased to present Silkscreen Paintings, an exhibition of recent silkscreen and mixed media paintings by New York artist Eugene Brodsky. This is the gallery's fifth solo exhibition for the artist.
For the exhibition, Brodsky stages his tableau such that the x-ray quality of the silkscreens has a cinematic quality to them. Printing with inks directly onto silk fabric forces the viewer to consider the surface alongside the potency of the found image. It is a push and pull of physicality and metaphor. In the artist's own words, Brodsky describes his body of work this way.
"Subjects and Connectivity:
The sources for my work start from images I come across, sometimes hunting for them and sometimes stumbling across them when least expected. I find them: walking in a strange city, taking snapshots surreptitiously at a screening of an old film, thumbing through endless books of architecture, on the wall of a construction shed, in a garden, going around the block because I am early for an appointment, finding a shred of a poster left hanging, or at a book stall in Paris, where weirdly but inevitably the prototypical grey Parisian vendor chases me down the street because somehow I have stolen what is his- though only the image itself. I ramble and look for what nobody else cares about. And having caught my "prey" (images), I take them to my studio and dissect and manipulate them so they are hopefully born again and given some new dignity and magic.
The question comes up as to how these images are connected? What's the story? There's an academic answer: pattern and system, nature and planner, lines and dots as code that's easy to decipher. But to me it's always going to be that the things I make are linked by me. They are what captures me and their commonality is that I chose them and they chose me.
Silkscreen:
I have been working with silkscreen for many years. It lets me keep my "hand" in the work while keeping my "hand" out of the work. I have been using stencils in my paintings for more than ten years and wanted to revisit the specificity and surprise that I can get with the silkscreen process.
Labor:
I spend a lot of time hand drawing things that in the end show few signs of that. It interests me that an accumulation of clumsy marks add up to something that can seem very precise. And that conversely sometimes something very labor intensive can seem very casual. Handmade Mechanicals - I guess that's what I hope to make."
-Eugene Brodsky, October 2011
Eugene Brodsky (b.1946), a native of New York, has exhibited in solo and group exhibitions with galleries and institutions across the U.S. He has had five solo exhibitions at Sears-Peyton Gallery. Brodsky has received numerous awards including two John Simon Guggenheim Foundation Fellowships, two National Endowment for the Arts Grants, and two New York Foundation of the Arts Fellowships. His work can be found in public collections such as the Baltimore Museum of Art, MD; The National Gallery, D.C.; The Metropolitan Museum of Art, NY; Museum Of Contemporary Art, San Diego, CA; Yale University Art Gallery, CT; Detroit Institute of Art, MI. Brodsky lives and works in New York City and East Hampton.