PRESS RELEASE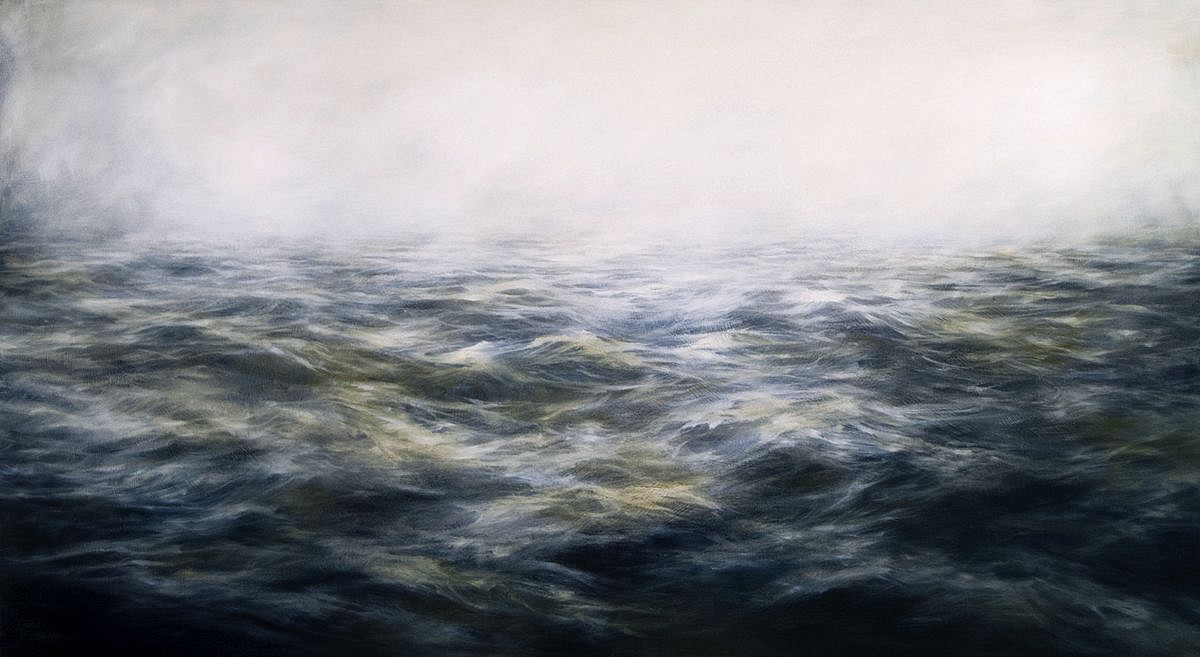 MaryBeth Thielhelm, Primordial Waters
Oct 9 – Nov 8, 2014
MaryBeth Thielhelm, Primordial Waters
October 9 – November 8, 2014
Opening Reception, Thursday, October 16th, 6-8 PM

Sears-Peyton Gallery is pleased to present Primordial Waters, an exhibition of recent works by New York artist MaryBeth Thielhelm.

"They both listened silently to the water, which to them was not just water, but the voice of life, the voice of Being, the voice of perpetual Becoming."
― Hermann Hesse, Siddhartha

The ever-transforming movement of ocean, from maelstrom waves to gentle tides, holds universal allure. Elemental to what attracts us in these living waters is an undeniably primordial power: a nexus of poetry and physics from which newness can arise. This state of pristine potentiality is a deep knowing that is our birthright. It is a state we can always tap into, where clear, unobstructed energy resides in pureness.

Our very flesh and bones are, in majority volume, water. The energies of the ocean are within us, as an alive, embodied wisdom that permeates every cell and tissue. Primordial Waters is a body-scale, "experience-scale" series of paintings that are portals to that knowing. Taking in these works, we feel the movement of water whose natural rhythms are our own. This exhibit navigates us inward, into subtle, mystical, rarely seen interiors—the purity of one's true nature.

Thielhelm's pieces invite viewers into a somatic unity with the living ocean. Her works are best understood more as experiences than panoramas. Her creative process bridges an intuitive communication between the pulse of water and sky, and the expressive potential of hue, light, and texture. The resulting pieces far surpass pictographic representations, engaging viewers in their own present-moment awareness and the ocean's power and grace.

Thielhelm's works draw on her recollections of living in intimate connection with the physical environment and her haunting relationship with the ocean. Endless hours sailing on the Persian Gulf fill her earliest childhood memories of living in Saudi Arabia. Periods surrounded by the sea as a young artist in Santorini, Greece, and later on an island off the Atlantic Northeast, in Maine, deepened a thematic dialogue with water. To "view" Thielhelm's work is to have a bodily experience of a breathing presence known by all the senses. She says of her process, "I'm continually after that deep knowing where my body's rhythm and the paint dissolve, and all there is, is breath."

Primordial Waters is MaryBeth Thielhelm's tenth solo exhibition and her fifth with the Sears-Peyton Gallery. Recent group exhibitions include Looking Back Six Years at the University of Maine Museum of Art, Maine (2014); Out of the Dark Room at the Irish Museum of Art, Dublin, Ireland (2011); New Artists at the Bentley Gallery, Arizona (2007); and Black and White Works from the Permanent Collection at the Daum Museum of Contemporary Art, Missouri (2006). Thielhelm's work has been acquired by numerous corporate and private collections, including Orlando Museum of Art, Daum Museum of Contemporary Art, University of Maine Museum of Art, Hunterdon Museum of Art, American Express, Barclay's Global, Merrill Lynch, General Electric, Pfizer, Schwab Institutional, and US Department of State. Thielhelm graduated with her BFA cum laude from Syracuse University in 1988. She lives and works in New York City.