BIOGRAPHY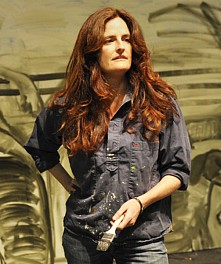 Kathryn Lynch (b. Philadelphia, PA) paints her surroundings. For her the buildings, streets and traffic aren't just architecture and byways but symbols for the lives we live in an oh-so chaotic world. Her recent views of boats, tugs and the river are images of things we all know and recognize. Expressed with a palette that is masterfully warm and tonal, they are the color of seasons – gray and green and times of day – orange and blue. They are also the symbols of the ongoing solitary traveller in each of us. Lynch's paintings describe the storms we confront, the wind and the rain that push against us and the sun that finally shines.
Kathryn deals with notions of space and light and then with the slightest application of color, a form such as a boat or a tree come into play.
Kathryn Lynch has an MFA from the University of Pennsylvania and has been invited to Skowhegan, Yaddo, The Marie Walsh Foundation and The Vermont Studio Center. She has exhibited in numerous one person and group exhibitions.