PRESS RELEASE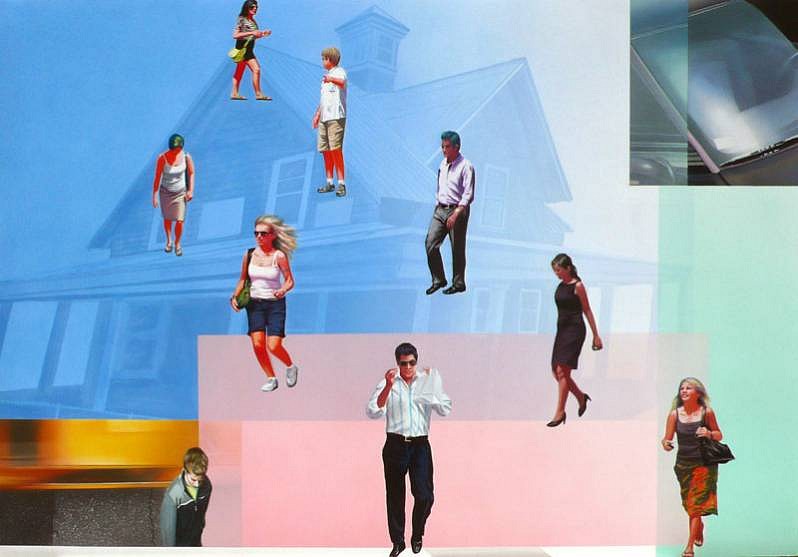 Robert Schmid, New Paintings
Jun 2 – Jul 1, 2011
Press Release
Robert Schmid, New Paintings
June 2 – July 1, 2011
Opening Reception: Thursday, June 2, 5-7 PM
With sensitive, assiduous craft, Mr. Schmid paints small-scale copies of blurred, smeared, double-exposed or otherwise distorted snapshots of people, city streets, and natural landscapes that were taken with a defective camera. He organizes these images into gridded compositions that have a moody, cinematic quality.
-Ken Johnson, NY Times
Sears-Peyton Gallery is proud to present our third solo exhibition of new work by New York artist Robert Schmid. The show will consist of two oil on canvases and five works on paper.
Trained as a chemist, Robert Schmid combines his background in math and science to create a personal visual language that defies verbal explanation. His work is influenced by quantum mechanics, the Fibonacci Series, fractals, and electronic distortion, which are all contributing factors that affect the patterns and visual organization in his work. Schmid is interested in the mind's manipulation of time. His compositions are intended to be irrational, establishing new correlations between dissimilar components. The crowd scenes have an especially peculiar sense of uncertainty because the randomly placed people create a sense of perceived patterns and associations even as they are separate and unrelated. Schmid has been painting for many years: from life, the computer, TV and photographs. This series of work was inspired by his travels in Manhattan, Florence, and Marrakesh.