PRESS RELEASE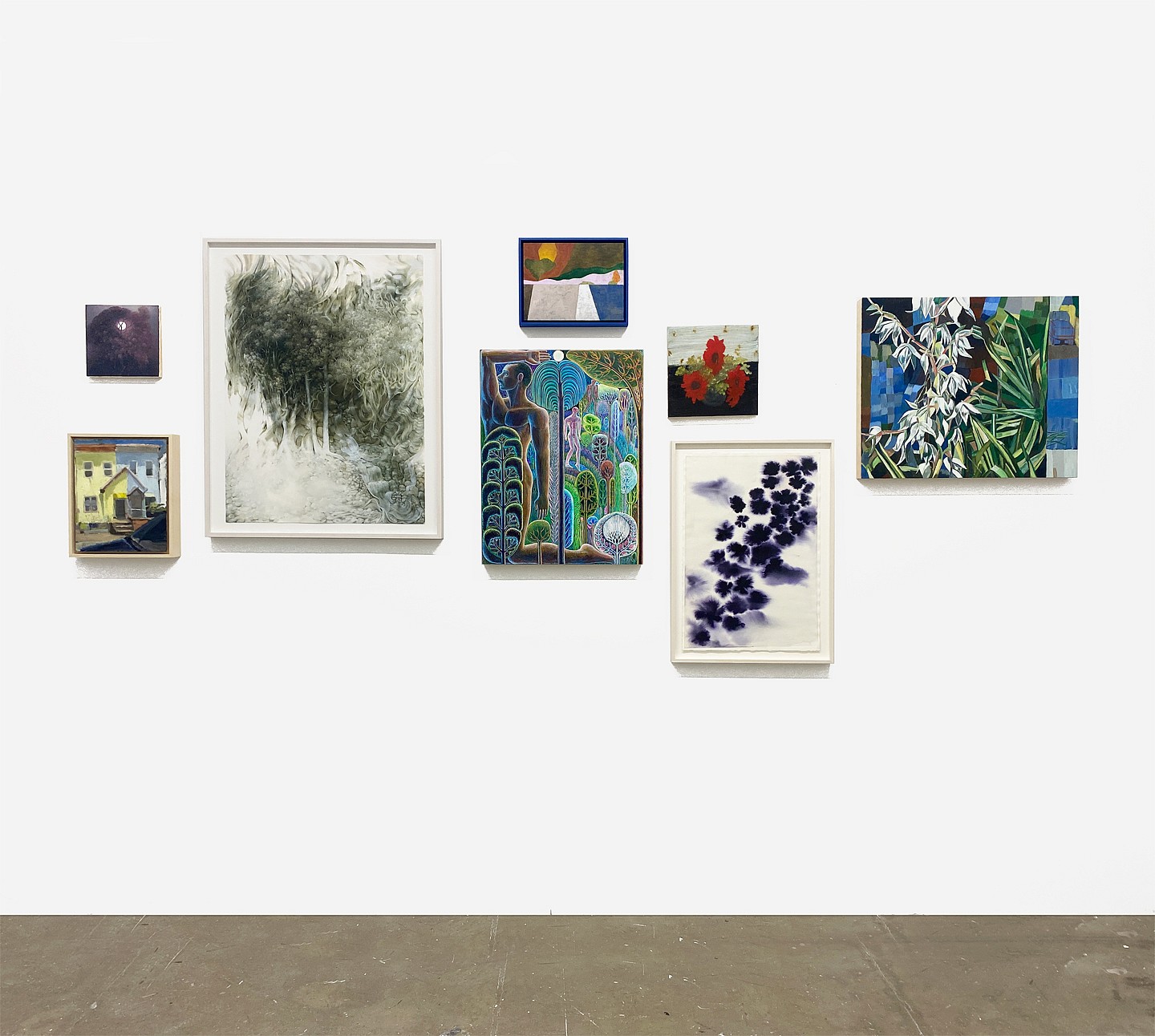 The Container Garden
Jul 14 – Aug 12, 2022
The Container Garden presents the work of 18 contemporary artists. The gallery serves as a garden, much like the terraces, fire escapes, balconies, backyards and windowsills many city dwellers use to transform their limited spaces into lush, beautiful worlds. The gallery, too, is a container for growth, expression, and germination, allowing for close encounters between artists and the cross pollination of ideas expressed through imagery.
Representing individual responses to the landscapes we inhabit, The Container Garden brings together depictions of our complicated yet beautiful connections to and synergy with nature. Peter Schroth's plein air landscapes overflow into the margins. Taped down while painting, some paint slips underneath the barrier much like a flower finds its way through the concrete sidewalk. In her ethereal painting on paper "Scroll", Eileen Murphy moves the eye through her mystical ribbons of trees, where a feeling of opulence and mystery is woven into the atmosphere. In her palette of organic materials (tansy, yarrow, various reeds, daffodils, sunflowers, roses, marigold, rosemary, calla lily, and bulbs), Peyton Peyton repositions onto the wall a garden presenting the realities of beauty and decay. The dried flowers are planted within the piece, their forms contorted from their last expressions as living organisms. Tessa Greene O'Brien's Maine landscapes are electrified with softly expressed pink hues. In "Golden, Water St.", O'Brien merges land, sky, and an abandoned automobile in a statement of the wild freedom at play when man ceases to intervene. Nick Benfey paints a familiar suburban nightscape in "Blue Night Playground", a park illuminated as the centerpiece to the surrounding neighborhood. The programmatic green space glows with the elements of play lighting up the mundane. Kathryn Lynch, unafraid of the inconspicuous, depicts standing ashtrays full of cigarette butts reminiscent of plants, a nod to our ability to beautify but also taint our surroundings. A nude figure frames the dense landscape in Bryan Rogers' "Down Hill" becoming one with the saturated patterns around him. The composition, split in two by a central tree, allows the figure to mirror the forest, suggesting the symmetry between human and nature.
The Container Garden was inspired by the British writer Nigel Colborn's wonderful guide to versatile gardening, gifted to me by Gaines Peyton. The show is on view July 14 - August 12 at Sears-Peyton Gallery's Project Room in their Chelsea location at 210 Eleventh Avenue. There is an evening reception July 14 from 5:00 – 7:00 p.m. Exhibitions are open to the public Tuesday-Friday from 12:00 - 5:00pm. For more information or to request further press images, please contact the gallery at info@searspeyton.com.