PRESS RELEASE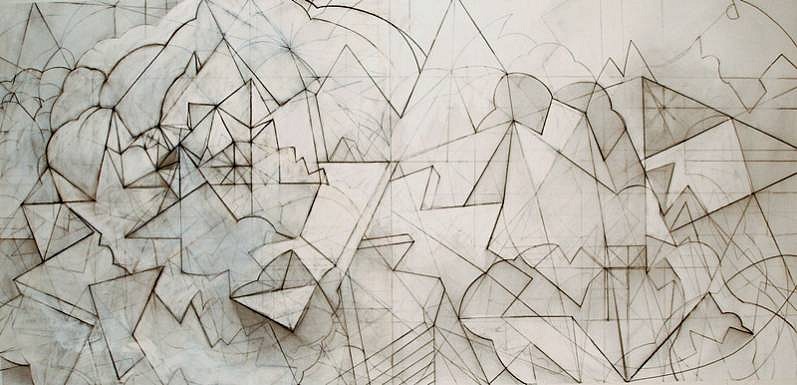 Celia Gerard, Regions of Unlikeness
Jan 6 – Feb 19, 2011
Celia Gerard
Regions of Unlikeness
January 6 – February 19, 2011
Reception: Thursday, January 6, 5 -7 pm
Sears Peyton Gallery is pleased to present a show of new works by Celia Gerard. For her first solo exhibition with the gallery, Celia Gerard will exhibit a series of works on paper whose imagery is derived from a developing language of shapes that collide with traces of memory. Exploring the lines of form and structure, Gerard's process uses the grid as a foundation for adding and subtracting layers of spatial relationships. From piece to piece, the grounds of each individual work oscillate between the lightest light and a mesmerizing darkness. This balance combines materiality with elements of a mysterious state of limitless potential. The multiplicity of Gerard's mark making turns in on itself, creating a prismatic reflection that strikes a sense of quiet mindful awe. Gerard's wide ranging influences include Islamic architecture, graffiti, crystal formations, and the works of composer John Cage and artist Georges Braque.
Drawn from works by Augustine and poet Jorie Graham, the title "Regions of Unlikeness" pays homage to Gerard's influences, both historical and contemporary, while also referencing a sense of being in between the unknown and the known. Within Gerard's works, the eye takes timeless journeys through prismatic fields and landscapes. Bruce Gagnier, one of Gerard's mentors, describes the work this way:
"Celia Gerard draws in depth, a plastic, pictorial depth; forming volumes in space based on geometry; perhaps the geometry that is hidden in nature. The space we travel through in these works is palpable in the drawing and resonant in our unconscious. Looking at one of these works is a journey to an important place located on the picture plane; a focal point; we are guided to this locus, far from the surface; a somewhere else; an important place to arrive at after a poetic journey; a place deep in space; but with no named presence; focused finally in ourselves."
Celia Gerard (b. 1973, Washington, D.C) received her BA with honors in art and art history from Colgate University, her EdM from Harvard University, and her MFA in sculpture from the New York Studio School of Drawing, Painting and Sculpture. She has exhibited her work at Sears-Peyton Gallery, New York, NY: The National Academy Museum, New York, NY; The Mark Potter Gallery, Watertown, CT; The New York Studio School, New York, NY; Gutman Library, Harvard University, MA; ISA Gallery, Montecastello di Vibio, Italy and numerous other galleries in New York and abroad. Awards and grants include the S.J. Wallace Truman Fund Award for graphics from the National Academy Museum; Artist-in-residence, the New York Studio School; Seligman/ Von Simpson award for excellence in sculpture; LCU foundation grant; and a sculpture fellowship from the Cathedral of St. John the Divine. She currently teaches at the School of Visual Arts and Swarthmore College, and has taught at Bard College, the New York Studio School, Centenary College and Riker's Island Correctional Facility. She lives and works in New York City.