PRESS RELEASE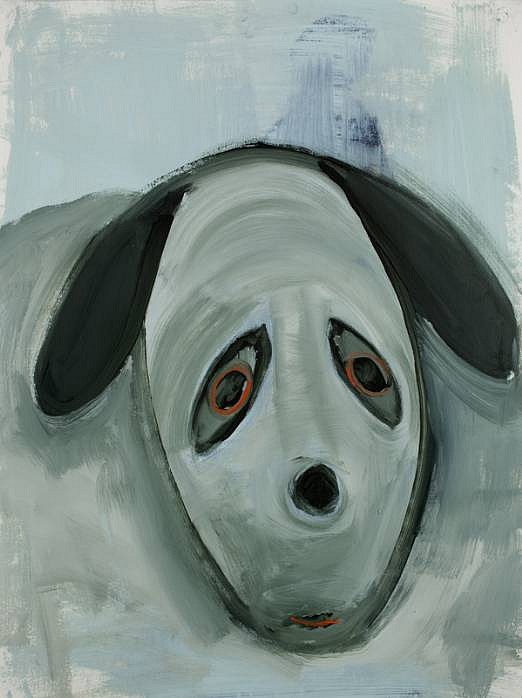 Kathryn Lynch, Dogs
Apr 26 – Jun 23, 2012
Kathryn Lynch
Dogs
April 26 – June 23, 2012


Conversation with Kathryn Lynch and photographer Lindsay McCrum
Lindsay McCrum: What inspired this body of work?

Kathryn Lynch: I think in the back of my mind I always knew I would attempt to paint the Dog. Then I got a dog, and it was inevitable that that would be my subject matter.
Initially I felt the dog—then a puppy—was cutting into my painting time. Then one day at the dog run I realized I was looking at my next series of paintings.
LM: You have mentioned in conversations that Goya's painting the "Hidden Dog" is an important work for you. How did this specific painting inform this series?
KL: That painting has always been rattling around in my head. The first time I saw Goya's "Hidden Dog" was at the Prado in Madrid when I was 17. I took a trimester off from college and was traveling by myself through Europe. My mother had recently died and I was feeling very alone. When I visited museums and put myself in front of art I felt at home.
When I first saw Goya's Dog picture it was a revolution.
It is an abstract painting, a landscape painting, and a portrait all in one. I found it to be quirky and mysterious, yet it was simply constructed using very few shapes and a limited palette.
LM: Do you think Goya's later paintings have some influence as well?
KL: Goya's black paintings were painted with oils directly on the walls of his own home for an audience of one. He painted one of the more disturbing murals, 'Saturn Devouring his Son' for his dining room. His oil murals were deeply personal and were done simply because he had to paint.
LM: What other artists do you feel influenced your paintings?
KL: If I were to construct an imaginary art family Goya would be my father and Alice Neel, my mother. Picasso and de Kooning would be my unruly brothers and Fairfield Porter and Philip Guston, my uncles.
I find it interesting that both Goya & Guston at the end of their careers were both out of favor—one with the court and the other with the critics. Yet their strongest paintings were done during this time. Their work was authentic and fearless; they both stayed true to themselves and their vision.
There are only a handful of works of art I relate to. When I go to my studio I take them with me and then when I start to paint I leave them all behind.
Lindsay McCrum is a fine art photographer. She graduated from Yale University and received her MFA from the San Francisco Art Institute. Trained as a painter in oils, Ms. McCrum switched exclusively to portrait photography in 2003. Her work had been exhibited in galleries in the U.S. and Europe. A book of her photographs, Chicks with Guns, was published by Vendome Press in 2011