PRESS RELEASE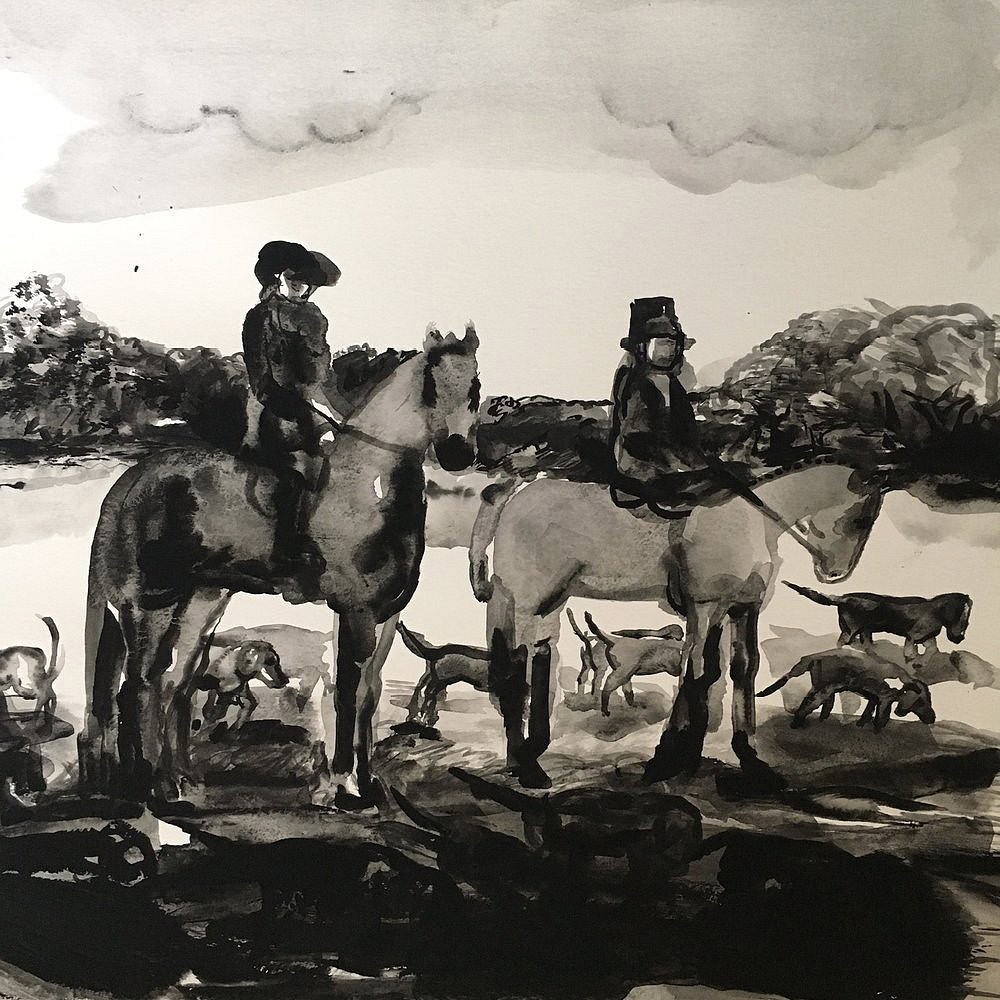 Suzy Spence
Jan 11 – Feb 17, 2018
Genre Mise-en-Scènes
Exhibition Title: Suzy Spence: A Night Among the Horses
Exhibition Dates: January 11 – February 17, 2018
Gallery Opening: January 11, 6:00 – 8:00 p.m.
New York, NY— Titled for the eponymous short story by Djuna Barnes, A Night Among the Horses, Suzy Spence's first solo exhibition at Sears-Peyton Gallery, presents a sprawling cast of disaffected equestriennes linked in solidarity. The exhibition marks a return to New York's gallery scene for Spence, who began her career at Colin de Land's American Fine Arts, Co. Gallery in Chelsea in 1998. Noted for her faux society portraits and hunt scenes, her new paintings distil sharp observations of class and gender through the potent metaphor of fox hunting.
Suzy Spence grew up in New York and Maine, the urbanity of the one and the choreographed pastoral scenes of the other sketching the complex seductions of society and class her paintings frame. Trained as an artist at Parsons and The School of Visual Arts, Spence studied under feminist thinkers like Mira Schor and Maureen Connor, and contributed to the language of arch critical gestures for which de Land's gritty-glamorous gallery scene became known.
In Mitford, two women stand side-by-side, their faces painted in bravura strokes indebted to Francisco de Goya in their fluency and gravitas. From a black background, the arm of one encircles the shoulder of the other as their faces float pale and watchful. One woman sports a menswear-inspired field coat with a straight tie with high collar, while the other wears a black wool equestrian blazer, gossamer ruffles gathered at her neck and a green sash across her chest. Such sartorial nuances emphasize the gender-bending culture of equestrian riders' habits and foxhunting more broadly, as a sport designed for men was appropriated by women over time. Bodies interlinked and faces set, the painting centers the women's connection as sisters or lovers or relatives or friends. They watch us closely, allied and defiant.
In the summer of 2016, Spence spent a week in residence at Fairfield Porter's former residence on Great Spruce Head island off the coast of Maine. There, her fascination with horses and riding converged with a new, looser direction in her painting. Porter, the famed figurative painter and writer whose life, like Spence's, straddled Maine and New York, painted the people he knew in colors that seem strained through a net of sun—loose, gentle tones that self-immolate in the blue arc of an eye or the golden curl of a stray lock of hair. Spence began the works included in A Night Among the Horses while staying in Porter's former bedroom, reading his biography, and sitting on his porch facing the house's main approach. From her perch, Spence painted Tricks, an auspicious nude fallen rider that would inaugurate her Side Saddle Society paintings. As the series unfolded, ink-black lines amassed into women riders astride horses, drinking port in foxhunting regalia, gazing darkly from under a top hat's black brim or from behind a diaphanous black veil. The figures that congregated in Spence's paintings were, like Porter's, a personal circle. Sometimes a recognizable face appears among the frock-coated cohort, sometimes the figures are aggregates—characters jilted by a secret loss, steely survivors of an unknown war. When thrown, they contort lyrically in the air, their fate uncertain. In groups, they turn their faces toward each other in dark complicity—soldiers, sisters, friends. They are on the hunt.
Suzy Spence: A Night Among the Horses is on view January 11 – February 17, 2018 at Sears-Peyton Gallery's Chelsea location at 210 Eleventh Avenue. There is an evening reception January 11 from 6:00 – 8:00 p.m. A catalogue with an essay by Amy Rahn will be published to coincide with the exhibition. Gallery Hours are 10 a.m. – 6 p.m. Tuesday through Saturday. For more information or to request further press images, please contact the gallery at info@searspeyton.com.