BIOGRAPHY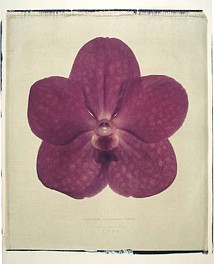 Broadfoot aims to show Nature's sublime art-making through mesmerizing photographs of preserved insects. These butterflies, moths, beetles, and other creatures come from all over the world, and are loaned to Broadfoot by the Museum of Entomology, Florida State collection of Arthropods.
Broadfoot transports the bugs to New York city where she has the rare privilege to use the 20 x 24 Polaroid camera , in the New York Polaroid Studio. The 20 x 24 is one of only five such cameras in the world. It stands five feet in height and weighs 235 pounds.
Broadfoot transfers the 20 x 24 inch Polarioid negative onto watercolor paper that easily absorbs the dyes. Rewetting the paper, Broadfoot then drags large wads of cotton over the malleable ink to create an ethereal and painterly quality.
Broadfoot juxtaposes this ethereal tone by meticulously labeling each photograph with the Latin and common name of the insect, giving the work a quality reminiscent of vintage natural history illustrations.