PRESS RELEASE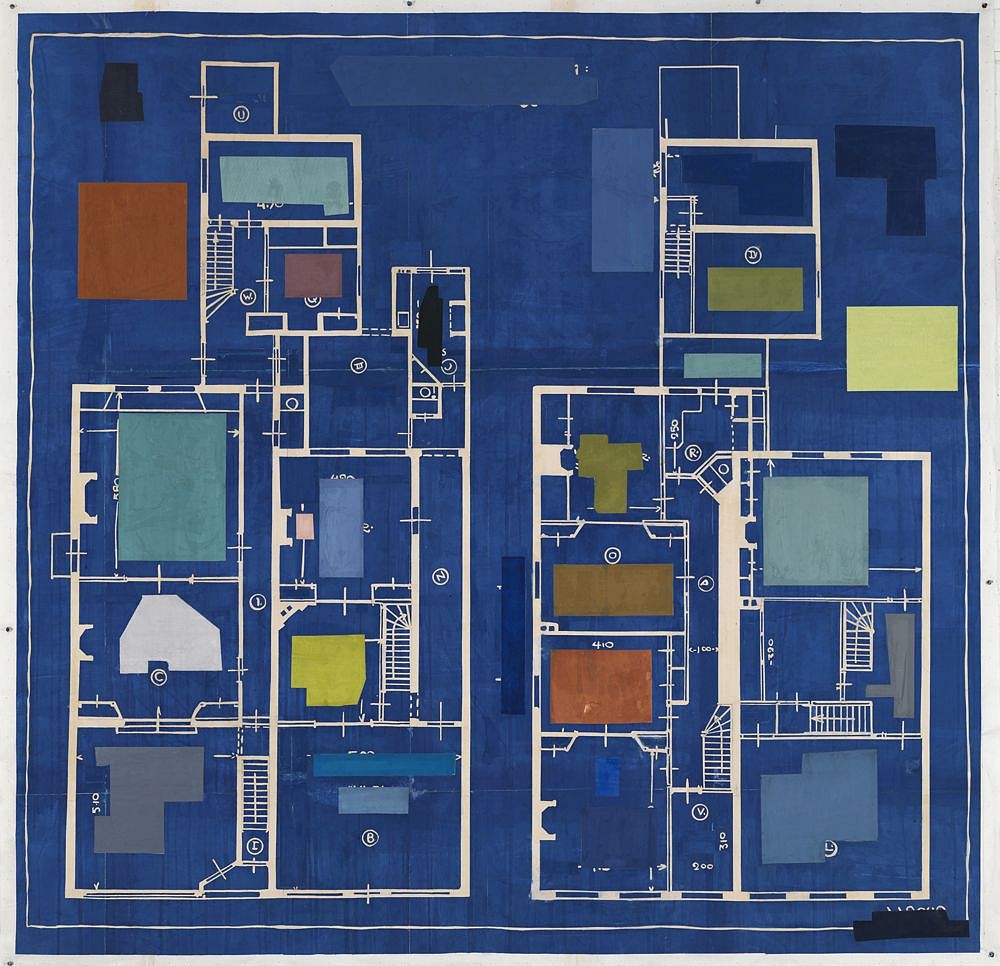 Eugene Brodsky, Plans
Nov 13 – Dec 20, 2014
Eugene Brodsky, Plans
November 13-December 20, 2014

Opening Reception: Thursday, November 13th, 5-7 PM


Sears-Peyton Gallery is pleased to present Plans, an exhibition of recent ink on silk works by New York artist Eugene Brodsky. This is the gallery's sixth solo exhibition for the artist.

Brodsky describes his work this way.

Plans:

For me the most compelling images- the ones that grab me and cut past my art wall are images that are intended to define or make specific with a minimum of self consciousness- images driven by a seemingly utilitarian purpose.

Looking at the blueprints and sketches of some of the giants of twentieth century architecture there can be no doubt that their was always the awareness among them that everything must seduce- that every scrap and seemingly tossed off fragment would have a life.

The worked on, tattered, erased and notated records of how something came to be have a breathtaking presence. Always wondering if the architect knew that the torn off edge- the tape addendum- the scribbled revision looked so compelling. How could they not- though this worn down and casual look was many years ahead of its current popularity in the "fine" arts.

These noble moments, mixes of the matter of fact- the sharing of measurements and diagrams required- and the sure knowledge that the thrill is more often in the journey then the final destination- are the jumping off point for this group of new work.

The sources of these pieces reflect much looking and editing. My goal has been to find examples where my vision works in tandem with another's to produce something that is both new and at the same time intentionally bound to its beginnings. Often I'm pulled toward the most casual image-the almost throw away. The starting point leads to a series of maddeningly (for me and for several others- who show saintly patience) complicated processes including drawing-collage- vector conversion-laser cutting- inking- silk stretching- pinning-assembling- processes that remain mostly invisible to the viewer- who rightly just sees what's there.

The sources are clearly centered for the most part in the earlier half of the twentieth century. Most convey a faith in the validity of design to advance a greater good. It is a position that has become outdated by the facts. Design and visual invention seem ends in themselves that exist largely outside of the vortex of progress and retrenchment.

It turns out these plans and detailed visions so mighty and prescient might just have taken us in a circle- though a circle to be admired and embraced for its logic and beauty.

Process:

One of the most daunting issues with the work that I do- work that is essentially creating a jigsaw puzzle of silk has been the need to draw out by hand the image multiple times- then cut them- with all the attendant grief when trying to match hand drawn and hand cut pieces together and getting them to fit. In a moment of early 21st century technological embrace- it occurred to me that the company that had been doing some simple laser cutting of wooden sections might be able to employ the same process to the inked silk. We ran some tests- the pieces didn't burn up- it allowed for some very fine lines to be included that previously had to be dropped. It required me to learn the difference between pixels and vectors- find a source for conversion of my drawings to vector files and to work with a new team via face time to get things right. There were mishaps- I learned the language of " hairlines " and various other terms of a new language. I kept in mind the danger of things working too well (I think of Oldenburg and his magnificent clumsy yet perfect earlier work versus the later, more technologically advanced but somewhat antiseptic later pieces) but hopefully my innate clumsiness and the requirement that in the end things still needed to be put together by hand and something always goes "wrong" in the mounting process saves me from the sleekness that might be a result of a more advanced way of doing things.
-Eugene Brodsky



Eugene Brodsky (b.1946), a native of New York, has exhibited in solo and group exhibitions with galleries and institutions across the U.S. He has had six solo exhibitions at Sears-Peyton Gallery. His last exhibition with the gallery was reviewed in ARTnews Magazine and the Huffington Post. Brodsky has received numerous awards including two John Simon Guggenheim Foundation Fellowships, two National Endowment for the Arts Grants, and two New York Foundation of the Arts Fellowships. His work can be found in public collections such as the Baltimore Museum of Art, MD; The National Gallery, D.C.; The Metropolitan Museum of Art, NY; Museum Of Contemporary Art, San Diego, CA; Yale University Art Gallery, CT; Detroit Institute of Art, MI. Brodsky lives and works in New York City and East Hampton.